October 31, 2016
Some of world's top brewers jostling for stakes in Sabeco

Benchmark VN Index has risen 25 percent since end of January
After years of glacial progress, Vietnam's efforts to privatize its state-owned companies are gathering pace as the government gets close to offloading stakes in the country's biggest brewer and dairy firm.
Some of the world's top brewers are jostling to buy holdings in Saigon Beer Alcohol Beverage Corp., with an official saying last week suitors that can further the company's expansion plans are being favored. The government is also set to sell stakes in Hanoi Beer Alcohol Beverage Corp. and Vietnam Dairy Products JSC, the nation's largest company that's known as Vinamilk, spurring optimism the share market can rally past an eight-year high.
"The listings of Sabeco and Habeco will certainly attract new flows of investment into Vietnam and, together with the divestment of the government's stake in Vinamilk, will be a catalyst for the market," said Federico Parenti, a Milan-based fund manager at Sempione Sim Spa. "I think that the Vietnam market still has room to gain."
The benchmark VN Index has rallied 25 percent since the end of January, underpinned by rising foreign-direct investment and an economy that's forecast by analysts to expand 6 percent this year. While Vietnam first announced plans to reform its state-owned enterprises in 2011, progress has been slow with the stakes being sold often being too small and many companies selling shares to the public but then not listing on exchanges.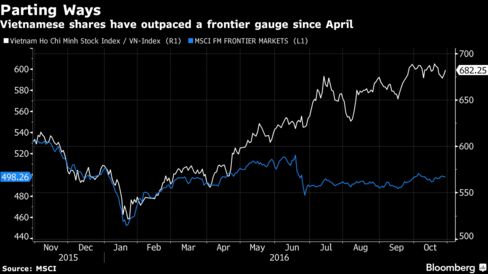 From November, Vietnamese companies will be required to list their shares on an exchange within seven days of conducting an initial public offering. The previous limit was 90 days and before November 2013 there was no requirement. Sabeco did its IPO in 2008, but still hasn't listed.
"Foreign investors were very upset about the fact that many big SOEs, which had already sold shares to the public a long time ago, still hadn't listed," said Thang Uong, who oversees $679 million as a portfolio manager at Manulife Asset Management (Vietnam) Co. in Ho Chi Minh City. "The SOE reform process has been quite slow in the past few years but we've seen significant progress recently."
Vietnam announced the divestment and listings of the beer companies in August. It's aiming to sell a 89.6 percent stake in Sabeco, in two portions, and all of its 82 percent holding in Habeco. The Hanoi brewer had its first day of trading on the unlisted public company market on Friday, although has yet to announce plans to list on either of Vietnam's two official stock exchanges.
The government in September set a deadline to sell a 9 percent stake in Vinamilk by the end of this year, and will then gradually divest its remaining 36 percent. Initial prices for the sale, which is attracting a lot of foreign interest, should be available in November, according to State Capital Investment Corp., an agency that holds the stock.
In May, authorities announced a plan to sell a 6 percent stake in FPT Corp., the nation's largest listed technology and telecommunication company, and Airports Corp. of Vietnam will list 2.17 billion shares in November, the Thoi Bao Kinh Te Viet Nam newspaper reported Oct. 26. All told, the SCIC sold stakes in 54 companies in the nine months through September, compared with a full-year target of 120, according to Vietnam Finance, a news website.
The VN Index closed at an eight-year high of 688.89 on Oct. 19. The gauge, which rose 0.1 percent as of 9:40 a.m. in Hanoi on Monday, has trounced a 1.9 percent decline in the MSCI Frontier Markets Index this year. That's made Vietnamese shares expensive relative to peers, with the 12-month price-to-earnings ratio at 14.2, more than 10.7 for the frontier measure.
The SOE reforms and the deepening and broadening of the market are building investor confidence in Vietnam, said Andrew Brudenell, the London-based head of frontier market equities at Ashmore Group Plc, which manages $54.6 billion. However, Vietnam "is no longer obviously cheap" and its banking sector remains a "little bit fragile," he said.